Enter an original jump design into our competition, and if you're a winner, your creation will become a real-life obstacle at the 𝗧𝗥𝗠® | 𝙎𝙅𝘾 𝙎𝙥𝙧𝙞𝙣𝙜 𝙏𝙤𝙪𝙧 2023 Final in Coilog Equestrian Centre!!
One lucky winner will see their design come to life and will also receive €100 worth of 𝗧𝗥𝗠® products. So dust off those pencils or fire up your laptop and start designing! We can't wait to see your creative designs.
To enter, simply send your design to [email protected]. Please note that final designs may be subject to slight alterations during manufacture.
Applications will close at the end of February, so don't delay –enter today!
T&Cs:
The design should be for a vertical Show-Jump and include x2 sets of wings, multiple poles/planks/filler.
The design should be influenced by TRM® Equine Nutrition, our logo, branding & colours.
Designs can either be hand-drawn or digitally produced – Send a version to us digitally as a PNG or JPG
Final designs may be subject to slight alterations during manufacture
Applications will close end of February 2023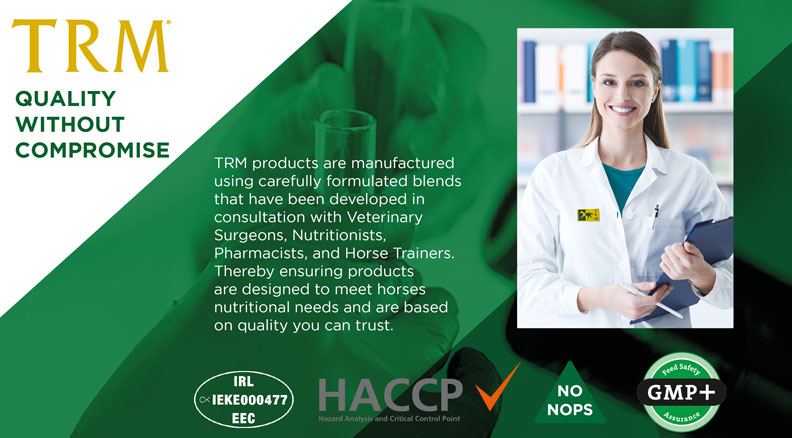 TRM® is Europe's largest manufacturer and distributor of Nutritional Feed Supplements and General Healthcare products for Horses, based in Co Kildare, Ireland. To ensure the longevity and reputation of all our products, TRM® manufacture under an EU manufacturing licence, using quality assured ingredients. TRM® incorporates a full time Quality Assurance Department which implements rigorous protocol and HACCP systems throughout the production process.
In addition, TRM® has been accredited with the highest international standard for the manufacture of feed – namely GMP+(Good Manufacturing Process).
TRM® have an extensive research team and utilise the services of leading experts in the field of pharmaceutical science, formulation development, operation systems, microbiology, chemistry, equine science, equine exercise physiology, equine nutrition and statistics.
All our customers are welcomed to avail of this expert advice at any stage regardless if you are a leisure horse owner, training a team of horses or producing young stock for the future.
𝗧𝗥𝗠® 𝗘𝗾𝘂𝗶𝗻𝗲 𝗡𝘂𝘁𝗿𝗶𝘁𝗶𝗼𝗻 - 𝗛𝗲𝗮𝗹𝘁𝗵 𝗖𝗮𝗿𝗲
Keep your horse healthy with healthcare or feed supplements by 'Thoroughbred Remedies Manufacturing'®. TRM® is Europe's largest manufacturer of equine nutritional supplements. 
We love to share our knowledge and expertise on our range of equine supplements to give you the best advise and care for your horses. 
See our extensive product range 
 trm-ireland.com 
Questions? Get in touch 
 [email protected] 
 Excellence in Equine Nutrition
 TRM® supplements are designed to maximise horses' performance by targeting and supporting their nutritional & athletic needs.
 Support your horse's daily training needs with tonics, boosters, gastric support, or hoof growth supplements.
 For show days or heavy training days, look at TRM® electrolytes or calming supplements, as well as clay-based poultices for cold, tight legs.
 Your horse can always feel his best so that you can perform at your best for your next event.