LESS PLASTIC REVOLUTION AT 𝗧𝗥𝗠®
We are proud to say that, as part of our corporate responsibility program, we are continuing our commitment to reducing our use of non recyclable materials. Where possible we are removing outer shrink wrapping & bags.
This change, whilst protecting the environment and reducing our use of plastic, does not take away from 𝗧𝗥𝗠®'s commitment to stay-fresh and tamper proof packaging. 
Already we have amended packing specifications to remove the shrink-wrapping outer plastic bag on the following products


HOOFMAKER 500g | HOOFMAKER 5kg | VITA-E-PLUS 5kg | HEMOREX 500g | GOOD AS GOLD + MAG 500g
NEW Resealable Stay Fresh Bag for 𝗧𝗥𝗠®'s CALPHORMIN® 10kg. Same great product | new look packaging
As part of our corporate responsibility program; Our CALPHORMIN® 10kg packaging now contains 80% LESS plastic!!
𝗧𝗥𝗠®'s VITA-E-PLUS & STRIDE MP Cartons
VITA-E-PLUS & STRIDE MP sachet's outer carton will no longer be shrink-wrapped with plastic. These products are already in tamper-evident recyclable sachets with recyclable cartons, so there is no apparent need to shrink-wrap the outer container.
We are committed to reducing our use of non recyclable material, making for a cleaner planet. We can't wait to see what kind of positive change this makes in the world.
𝗧𝗥𝗠® 𝗘𝗾𝘂𝗶𝗻𝗲 𝗡𝘂𝘁𝗿𝗶𝘁𝗶𝗼𝗻 - 𝗛𝗲𝗮𝗹𝘁𝗵 𝗖𝗮𝗿𝗲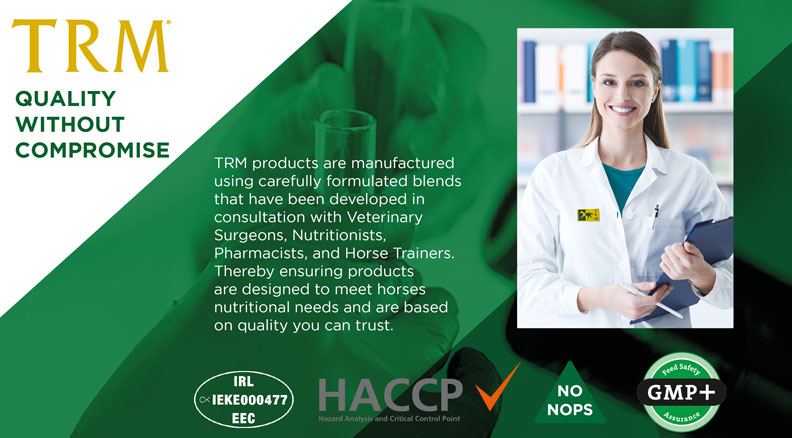 TRM® is Europe's largest manufacturer and distributor of Nutritional Feed Supplements and General Healthcare products for Horses, based in Co Kildare, Ireland. To ensure the longevity and reputation of all our products, TRM® manufacture under an EU manufacturing licence, using quality assured ingredients. TRM® incorporates a full time Quality Assurance Department which implements rigorous protocol and HACCP systems throughout the production process.
In addition, TRM® has been accredited with the highest international standard for the manufacture of feed – namely GMP+(Good Manufacturing Process).
TRM® have an extensive research team and utilise the services of leading experts in the field of pharmaceutical science, formulation development, operation systems, microbiology, chemistry, equine science, equine exercise physiology, equine nutrition and statistics.
All our customers are welcomed to avail of this expert advice at any stage regardless if you are a leisure horse owner, training a team of horses or producing young stock for the future.
Keep your horse healthy with healthcare or feed supplements by 'Thoroughbred Remedies Manufacturing'®. TRM® is Europe's largest manufacturer of equine nutritional supplements. 
We love to share our knowledge and expertise on our range of equine supplements to give you the best advise and care for your horses. 
See our extensive product range 
trm-ireland.com
Questions? Get in touch 
[email protected]
 Excellence in Equine Nutrition
 TRM® supplements are designed to maximise horses' performance by targeting and supporting their nutritional & athletic needs.
 Support your horse's daily training needs with tonics, boosters, gastric support, or hoof growth supplements.
 For show days or heavy training days, look at TRM® electrolytes or calming supplements, as well as clay-based poultices for cold, tight legs.
 Your horse can always feel his best so that you can perform at your best for your next event.