TRM® Announce Significant Industry Support Through Naas Sponsorship
TRM, Europe's largest manufacturer and distributor of nutritional feed supplements and general healthcare products for horses, has announced a significant suite of sponsorship at Naas for the 2023 flat season that not only supports owners through backing 6 races but also trainers, stable staff and breeders too.
TRM is focused on quality and has teamed up with Naas to reward excellence in Irish racing. To ensure the longevity and reputation of all TRM's products, TRM manufactures under an EU manufacturing licence, using quality-assured ingredients. TRM's reputation is built on proven results and trusts in the quality and safety of its products. It is TRM's mission to maximise horses' athletic performance by targeting their specific nutritional and care needs.
TRM will be sponsoring 6 races across the turf season at Naas with a unique prize breakdown for connections. The winning trainer of each of the 6 TRM-backed races will receive TRM supplements to the value of €500. The Best Turned Out prizes to support the hardworking stable staff will be €100 cash as well as branded clothing. TRM will also be awarding winning breeders with €500 RRP worth of breeding supplements.
Further to their generous support of 6 races at Naas, TRM will also be running a Trainer's League across the turf season at the Tipper Road track. The leading flat trainer at Naas in 2023 can look forward to €3000 RRP worth of TRM supplements, the runner up €2000 and the second runner up €1000.
And to really enhance TRM's steadfast support of the Irish racing industry, there will also be a Best Turned Out League across the turf season at Naas where stable staff will be practicing their plaits in order to bag a €1000 voucher for the TRI Equestrian Store. Breakfast will also be delivered to the winning yard at the end of the season to reward all the hard work put in by the winning team.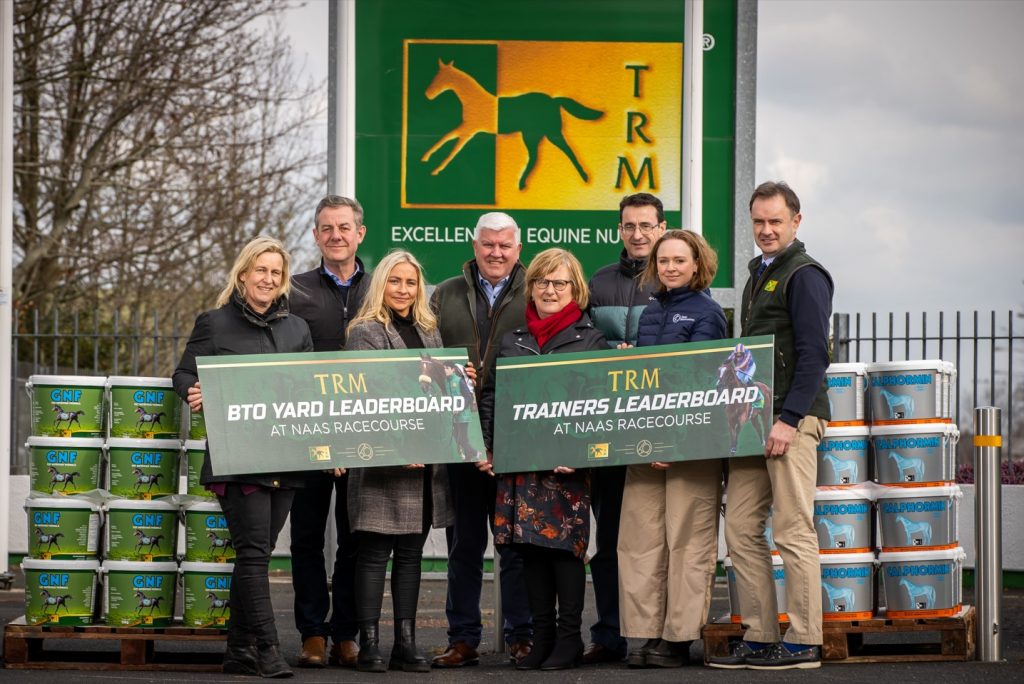 𝗧𝗥𝗠® 𝗘𝗾𝘂𝗶𝗻𝗲 𝗡𝘂𝘁𝗿𝗶𝘁𝗶𝗼𝗻 - 𝗛𝗲𝗮𝗹𝘁𝗵 𝗖𝗮𝗿𝗲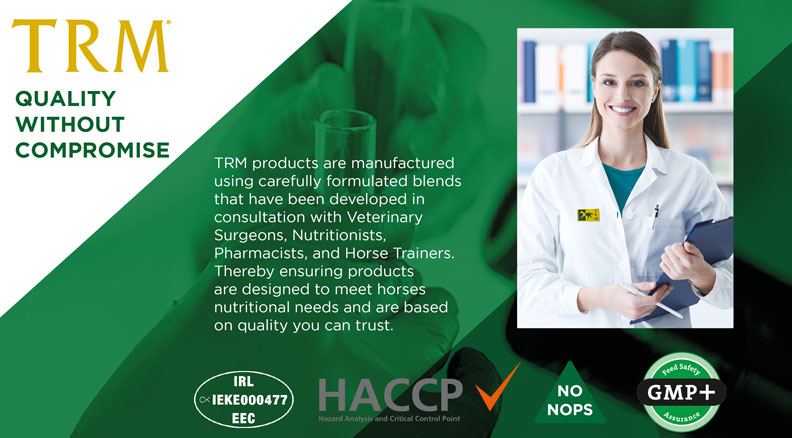 TRM® is Europe's largest manufacturer and distributor of Nutritional Feed Supplements and General Healthcare products for Horses, based in Co Kildare, Ireland. To ensure the longevity and reputation of all our products, TRM® manufacture under an EU manufacturing licence, using quality assured ingredients. TRM® incorporates a full time Quality Assurance Department which implements rigorous protocol and HACCP systems throughout the production process.
In addition, TRM® has been accredited with the highest international standard for the manufacture of feed – namely GMP+(Good Manufacturing Process).
TRM® have an extensive research team and utilise the services of leading experts in the field of pharmaceutical science, formulation development, operation systems, microbiology, chemistry, equine science, equine exercise physiology, equine nutrition and statistics.
All our customers are welcomed to avail of this expert advice at any stage regardless if you are a leisure horse owner, training a team of horses or producing young stock for the future.
Keep your horse healthy with healthcare or feed supplements by 'Thoroughbred Remedies Manufacturing'®. TRM® is Europe's largest manufacturer of equine nutritional supplements. 
We love to share our knowledge and expertise on our range of equine supplements to give you the best advise and care for your horses. 
See our extensive product range 
trm-ireland.com
Questions? Get in touch 
[email protected]
 Excellence in Equine Nutrition
 TRM® supplements are designed to maximise horses' performance by targeting and supporting their nutritional & athletic needs.
 Support your horse's daily training needs with tonics, boosters, gastric support, or hoof growth supplements.
 For show days or heavy training days, look at TRM® electrolytes or calming supplements, as well as clay-based poultices for cold, tight legs.
 Your horse can always feel his best so that you can perform at your best for your next event.