The TRM Showjumpers Club Spring Tour marks the start of national Showjumping and this year. The Spring Tour is used by the majority of top National riders Young Riders and the aspiring Team riders for European Squads. This year the tour will begin as a 1.35m and in April the height will increase to 1.40m.
As in previous years, the winner combination of the Tour will take home €3,000, while the runner up combination will collect €1,500 and third place, €500. For the third year in the row. The top young rider will be crowned the TRM Young Rider 2023 Ambassador.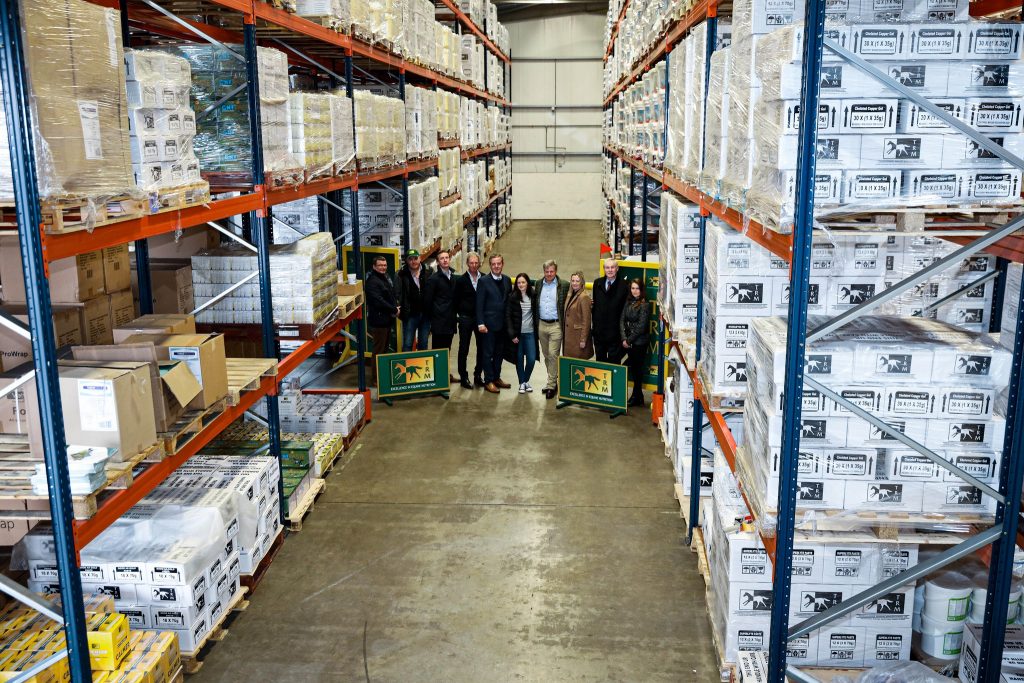 TRM has been a loyal supporter of the series, and this will be its fourth year to sponsor the popular tour. Speaking at the launch TRM Managing Director Raoul Masterson said,
"TRM are delighted to once again support the TRM Spring Tour alongside The Show Jumpers Club. As the leading Equine Supplement and Healthcare company we feel strongly about supporting the Irish Equine industry. The TRM Spring tour offers riders and horses a superb opportunity to start the year on the right foot and compete at 14 excellent venues across 16 legs, for good prize money. We look forward to following the series and of course welcome yet another leading young rider into the TRM roster of Sponsored riders."
Chairman of the Showjumpers Club, Ronan Corrigan said; 
"The Showjumpers Club and the greater industry are delighted that TRM have once again agreed to support this most important Tour which is one of the pillars of the Showjumping Calendar, 2023 will see an increase in the prize funds as the Tour goes on and an increase in fence height for the. April rounds. We are welcoming new venues on board for 2023. We once again thank TRM for their continued support of the sport and industry where they are firmly established as being one of the largest sponsors and supporters in the Sport Horse and showjumping sectors ".
The Spring Tour has established itself as a mainstay of the National Showjumping Calendar and as the production ground for so many of Irelands top riders and horses. The last number of years under the TRM banner has seen more top young female riders coming through with Emma McEntee and Robyn Moran lifting the titles and the TRM Ambassador packages, both now competing at international level successfully. 
Riders such as Conor Swail, Jack Ryan, Daniel Coyle, Mikey Pender, Emma Mc Entee, Robyn Moran, Jason Foley, Conor Drain, Francis and Kate Derwin, Matt and Luke Garrigan have all started their Grand Prix careers in the Spring Tour.  All these riders are now jumping successful at international level and some even in Nations Cups.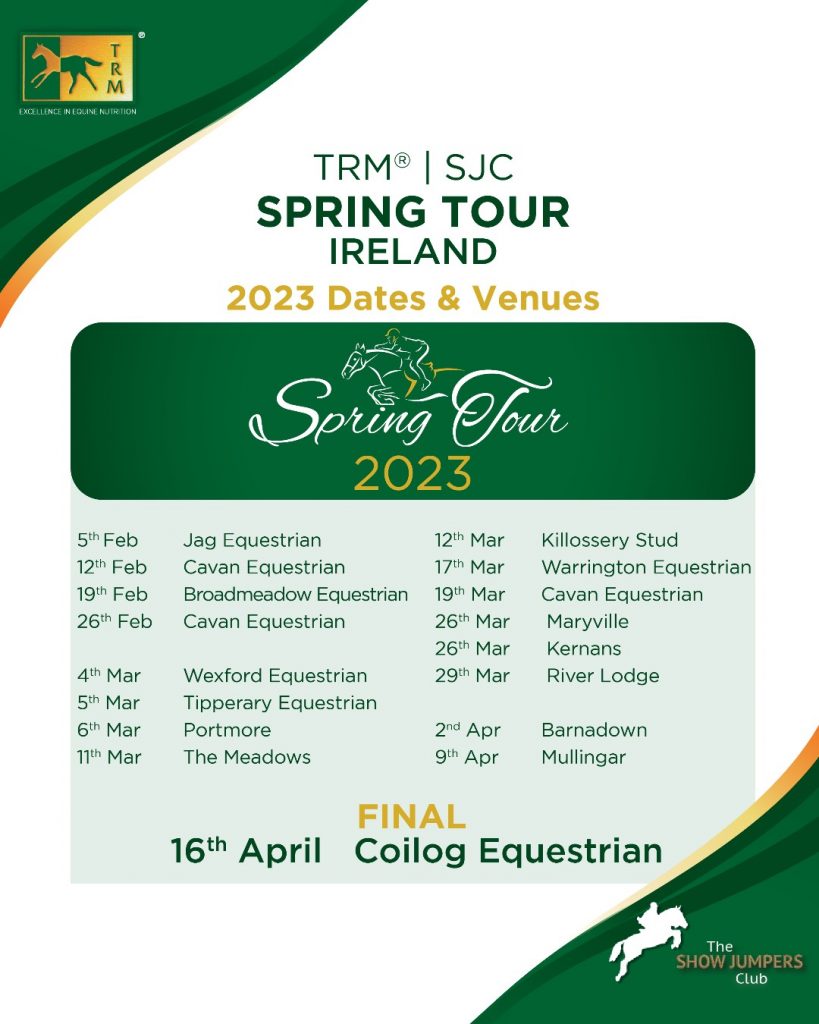 Horses, who have begun their career in this Spring Tour include, Larkhill Cruiser, MHS La Scala, Uptown Girl, Zigali P.S, Cuffsgrange Cavdora, Castlefield Vegas, AHG Whiterock Cruise Down, Rincarina, Mrs Quinn, Halloberry Cruz/ Vimminka, Dothraki Warlord, HHS Calais.
Tour dates and venues can be found on www.sji.ie
Written by Emer Bermingham of the Irish Field
𝗧𝗥𝗠® 𝗘𝗾𝘂𝗶𝗻𝗲 𝗡𝘂𝘁𝗿𝗶𝘁𝗶𝗼𝗻 - 𝗛𝗲𝗮𝗹𝘁𝗵 𝗖𝗮𝗿𝗲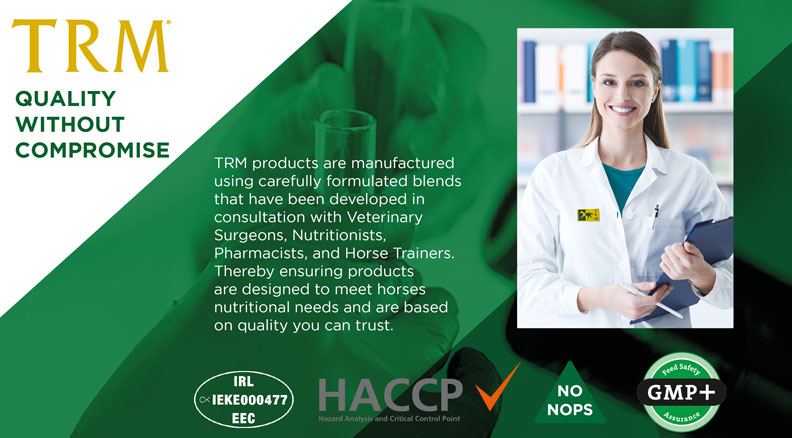 TRM® is Europe's largest manufacturer and distributor of Nutritional Feed Supplements and General Healthcare products for Horses, based in Co Kildare, Ireland. To ensure the longevity and reputation of all our products, TRM® manufacture under an EU manufacturing licence, using quality assured ingredients. TRM® incorporates a full time Quality Assurance Department which implements rigorous protocol and HACCP systems throughout the production process.
In addition, TRM® has been accredited with the highest international standard for the manufacture of feed – namely GMP+(Good Manufacturing Process).
TRM® have an extensive research team and utilise the services of leading experts in the field of pharmaceutical science, formulation development, operation systems, microbiology, chemistry, equine science, equine exercise physiology, equine nutrition and statistics.
All our customers are welcomed to avail of this expert advice at any stage regardless if you are a leisure horse owner, training a team of horses or producing young stock for the future.
Keep your horse healthy with healthcare or feed supplements by 'Thoroughbred Remedies Manufacturing'®. TRM® is Europe's largest manufacturer of equine nutritional supplements. 
We love to share our knowledge and expertise on our range of equine supplements to give you the best advise and care for your horses. 
See our extensive product range 
trm-ireland.com
Questions? Get in touch 
[email protected]
 Excellence in Equine Nutrition
 TRM® supplements are designed to maximise horses' performance by targeting and supporting their nutritional & athletic needs.
 Support your horse's daily training needs with tonics, boosters, gastric support, or hoof growth supplements.
 For show days or heavy training days, look at TRM® electrolytes or calming supplements, as well as clay-based poultices for cold, tight legs.
 Your horse can always feel his best so that you can perform at your best for your next event.